Transcript Translation

Academic documents are our speciality
What is a certified translation?
A certified translation must be signed and dated by a professional translator attesting to its accuracy and his/her own language expertise.  
Learn more
.
Will my university accept my translation?
Yes, our translations are accepted daily by U.S. colleges, graduate schools, and other educational institutions. We have a 100% acceptance rate on thousands of translations. Learn about our
100% money-back guarantee
.
How long will it take?
In less than 48 hours (excluding weekends and documents over 10 pages), we will email you your certified translation as a PDF file.  You can print it and deliver it to your college, graduate school, or other educational institution.  
Have more questions?
Languages Translated
Italian
Japanese
Portuguese
LingoCafe Diploma Translation
"

I needed my college diploma translated for a student visa application. I consulted several translation services and most of them gave me a quote of 50 to 150 dollars to translate my one-page document! Not to mention a wait time of a week or more. When I foundLingoCafe the low price and 24-hour turnaround time seemed to good to be true, but I received a professional, accurate translation within a day of submitting my document online. I couldn't be happier!

"
- Rachel, Asuza, CA
"

I contacted LingoCafe for translation of two diplomas and two sets of transcripts. I received exceptional customer service and a prompt delivery of my translations. I would highly recommend LingoCafe and will use them in the future for any and all of my translation needs.

"
- Ramon P, Omaha, NE
Sample Transcript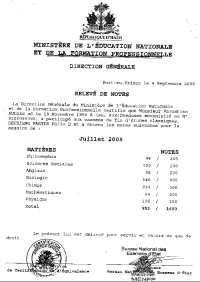 Certified Translated Transcript